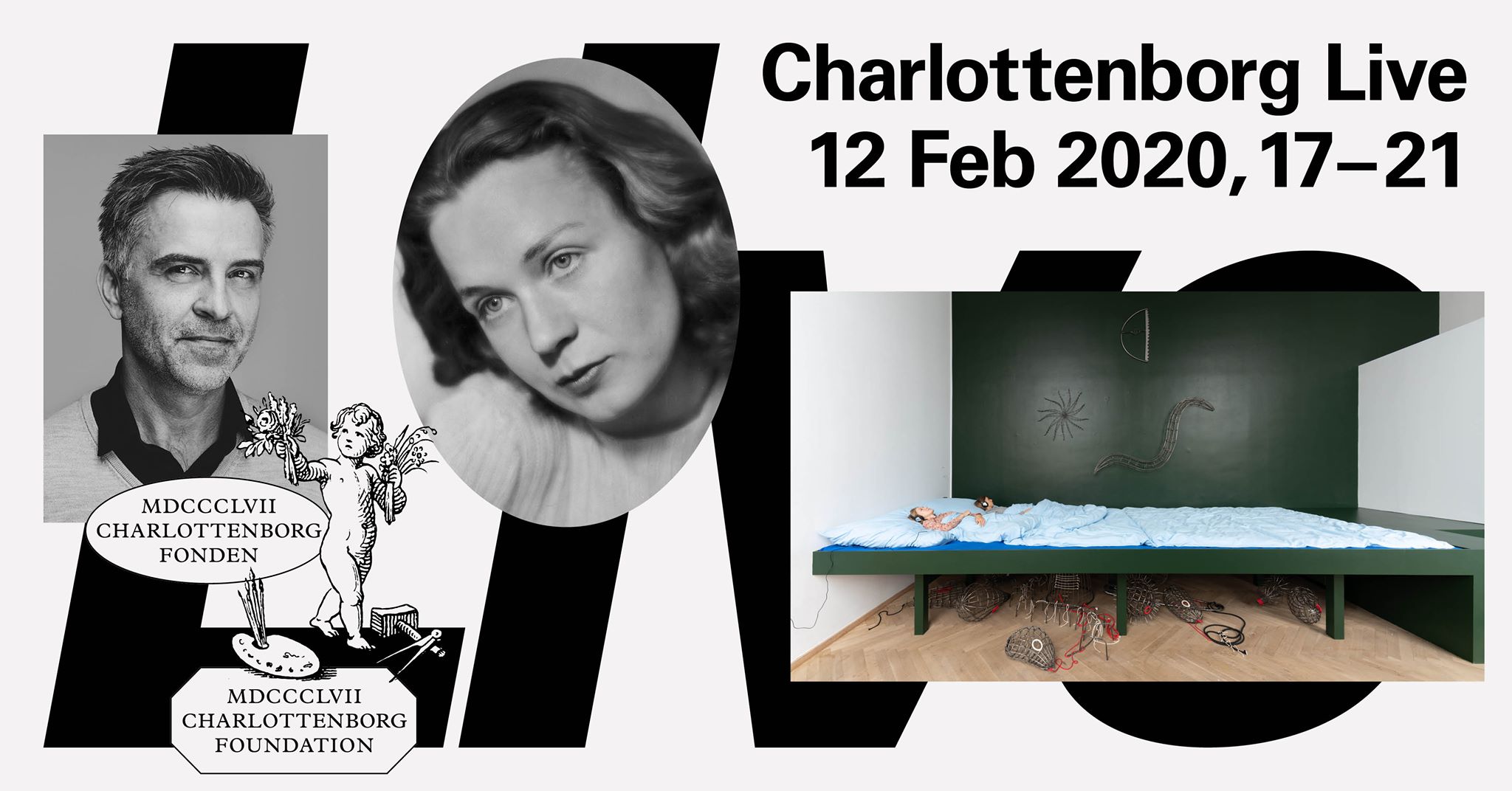 CHARLOTTENBORG LIVE: JOHANNES RIIS, WITH MORE
February 12, 2020 @ 5:00 pm

-

9:00 pm
CHARLOTTENBORG LIVE: JOHANNES RIIS, WITH MORE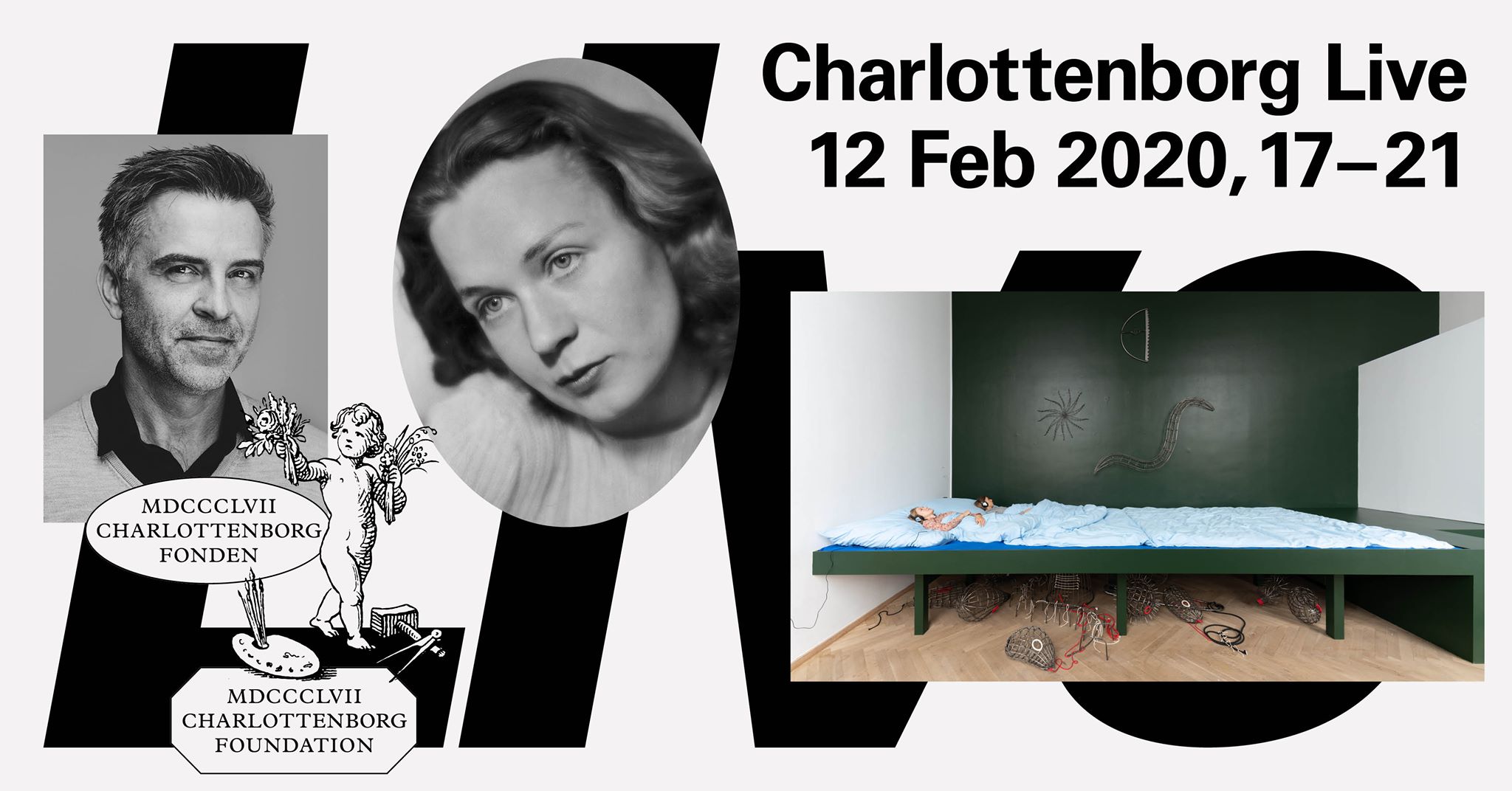 In cooperation with Gyldendal and Apollo Bar, Kunsthal Charlottenborg invites you to eight Wednesday evenings from 8 Jan to 26 Feb. 2020 with live talks, performances, guided tours of the current exhibitions, writer's meetings and long table dinners.
Tonight's programme
17.00 – 18.00 Talk: Charlottenborg Foraarsudstillings award winners in conversation with Chairman of the Charlottenborg Foundation Thomas Lindvig
17.30 - 19.30 Performance: Eva Kot ́átková, Confessions of the Piping System
18.00 - 18.45 Guided tour: Charlottenborg Spring Exhibition MMXX
19.00 - 21.00 Dinner: Long table dinner in Apollo Canteen (100 kr. per person) *book a seat at billetto.dk
19.45 – 20.15 Author's meeting: Johannes Riis on Tove Ditlevsen, Love, Tove (Letters to a Publisher) (part of long table dinner)
Long table dinner incl. author's meeting (DKK 100 + fee per person):
bit.ly/38OkoNb
On Wednesday evenings there is a free entrance at Kunsthal Charlottenborg from 17-20.
———————–
Talk
In connection with Charlottenborg Spring Exhibition 2020, you can experience this evening a talk with this year's Solo Prize winner Niels Østergaard Munk and Talent Prize winner AnneMette Elmelund. The talk is moderated by chairman of the Charlottenborg Foundation and visual artist Thomas Lindvig.
This evening's talk will be held in Charlottenborg Spring Exhibition 2020. Venue: Upper foyer.
Johannes Riis on Love, Tove (Letters to a Publisher)
"Love, Tove" is a collection of letters from 1969 to 1975 of Tove Ditlevsen's correspondence with Mogens Knudsen, the then director of Gyldendal. The letters stand, except for obvious typos and two or three omitted sentences at the request of her heirs, unedited.
In 1969, Tove Ditlevsen changed publishers to Gyldendal, where her editor became her great confidante. With him she discussed problems with everything from intrusive fan and annoying girlfriends to problems with alcohol and conflict with doctors. It was also in those years that she went through the divorce from Victor Andreasen.
"Love, Tove" is a comprehensive example of what a relationship between writer and editor can look like, and at the same time it is a unique insight into a fragile human being who is also one of Denmark's greatest writers of all time.