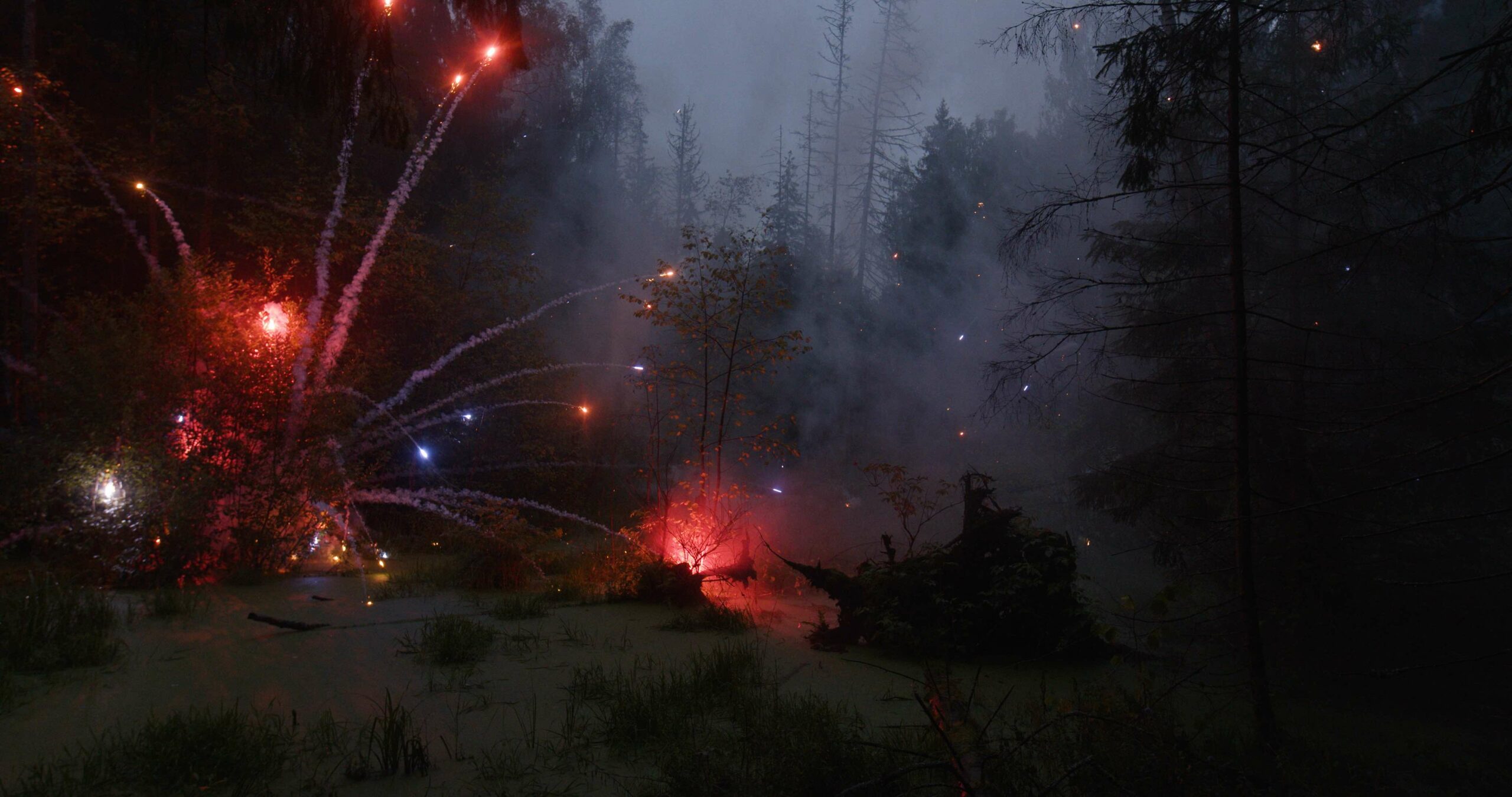 Sergei Prokofiev. Modtager af Soloprisen 2022. Foto: still fra videoværket FIREWORKS ON THE SWAMP (2020)
I samarbejde med udstillingschef for Politkens Forhal Signe Jochumsen har dette års jury valgt at udpege russiske Sergei Prokofiev som vinder af Soloprisen 2022. Med prisen følger muligheden for at skabe en soloudstilling hos Politikens Forhal i Januar 2023 og et legat på 10.000 kr. Prokofiev vinder med værkerne  FAN OF THE LAND (2021) og FIREWORKS ON THE SWAMP (2020)
"To be honest, at the end of October 2021 I opened my first solo exhibition abroad, in Uppsala, Sweden, in November 2021 I received an award in Russia, and now I am going to Denmark for such a wonderful occasion. The fact that I will receive the Solo Award is very important for me, just because I will be able to show some Russian contemporary art outside the Russian context and collect opinions about it in Denmark. Everything that has been happening to me lately I call nothing but a Series of Miracles."
– Sergei Prokofiev
OM SERGEI PROKOFIEV
(oversat fra kunstnerens egen beskrivelse)
Kunst er for mig en form for modstand. En slags ultimativ modstand, der er selvopretholdende gennem fundamentale uenigheder, der overgår enhver kunstners ønske om at være anderledes. Uden at have nogle aktivistiske tilbøjeligheder agerer jeg ofte i feltet af politiseret kunst, hvor jeg prøver at skabe noget, der er mit eget, uden autoritet, i et tomrum. Jeg vil have kunst til at opstå ud af spændinger mellem mit værk og tilskuerens opfattelse uden at give slip på ham eller hende.
Website: www.prokofiev.net
Instagram: @serge.prokofiev
OM FIREWORKS ONTHE SWAMP (2020)
(oversat fra kunstnerens egen beskrivelse)
Der var fyrværkeri i sumpen, det er helt sikkert.
Intensiteten af, hvad der sker, er så høj, at bevidstheden ikke har tid til at dekonstruere billedet af denne begivenhed. Når røgen forsvinder kan vi begynde at tale om fortolkningsfeltet. Men dette er ikke så vigtigt, for det består kun af versioner af virkeligheden, og deres totalitet giver os ikke et komplet billede. Det er vigtigt at leve direkte i oplevelsen, hvor den absolutte realitet kan afsløres.
HD video. 06:40 min.
OM FAN OF THE LAND (2021)
(oversat fra kunstnerens egen beskrivelse)
Den moderne protestbevægelse har en bestemt feature – den er eftertrykkeligt fredfyldt. På grund af dette trækker autoriteterne, der kun forstår magtens sprog, ned i asfalten. Hårde fyre går ikke til demonstrationer. Nogle mennesker klynger deres op på dem som menneskerne, der skal påvirke det regerende regime. Men der opstår også en angst – medlemmer af fankulturen bliver også associeret med radikalisme, nationalisme og neo-nazisme. Ingen ved hvad der sker, hvis de går udenfor, føler den magt de har, og ikke har lyst til at forlade den.
HD video. 03:13 min
BEGRUNDELSE FOR VALGET AF SERGEI PROKOFIEV
"Der er en helt enorm kraft i Sergei Prokofiev værker, som på én gang indeholder en rungende tomhed og en overdøvende larm. Roen i den dybe skov og stilheden ved søens bred i den vilde russiske natur står i kontrast til den uro, der lurer lige dér under overfladen. På vegne af Politikens Forhal, er det mig en kæmpe stor glæde at vi hermed – og i denne tid – peger på netop Sergei Prokofiev, og vi ser frem til at samarbejde med ham og Charlottenborg Fonden om en soloudstilling i Politikens Forhal til januar 2023."
– Signe Jochumsen, på vegne af Politikens Forhal og dette års jury