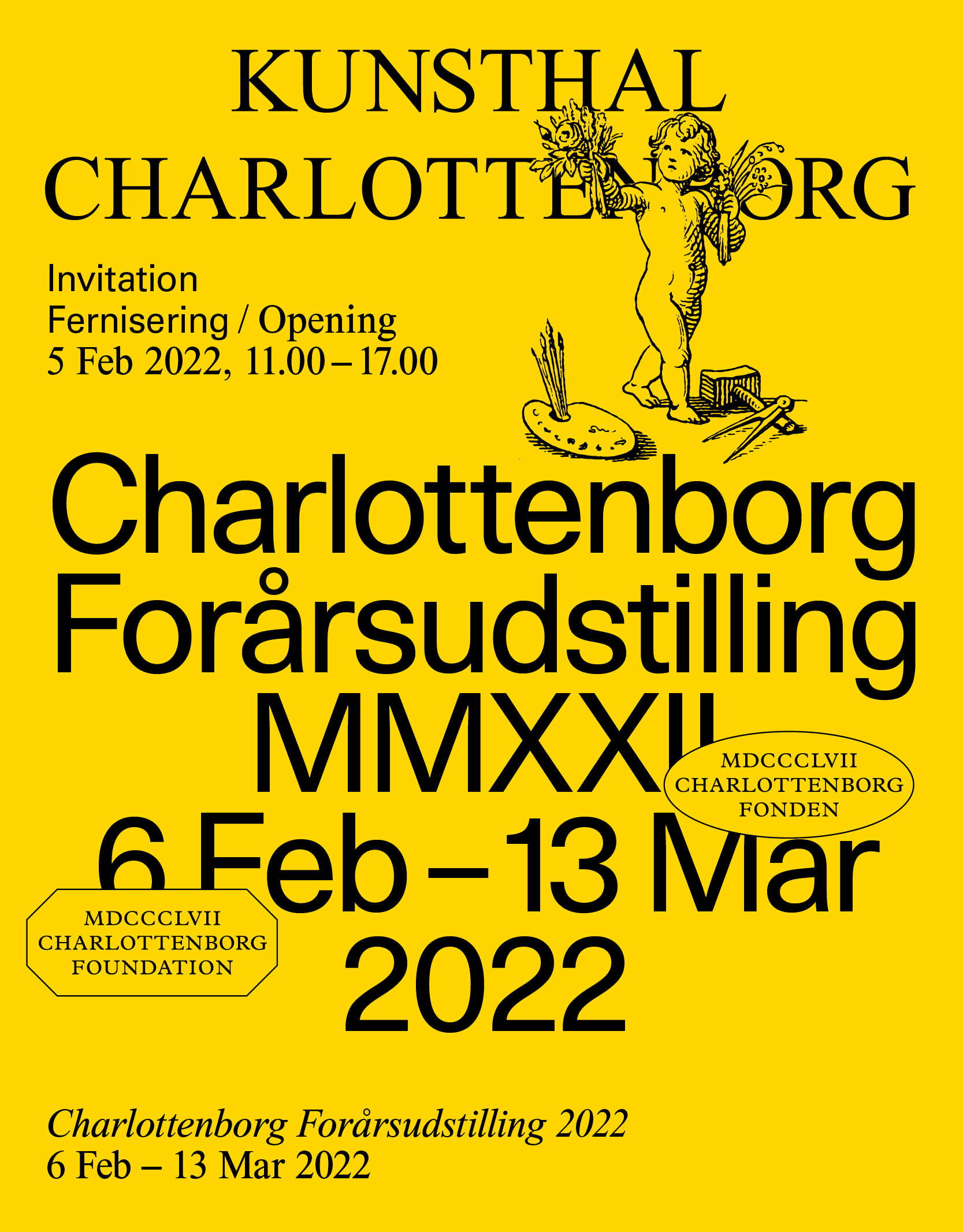 In connection with this year's spring exhibition, the Charlottenborg Foundation offers an exhibition programme where admission on the opening day and Wednesdays is free. Everyone is welcome!
Opening on Saturday 5 February
The exhibition will take place at Kunsthal Charlottenborg on 5 February from 12:00-17:00.
At 12:15 there will be a welcome speech by John Kørner, chairman of the Charlottenborg Foundation's board. This will be followed by the opening speech on behalf of this year's jury by Hesselholdt & Mejlvang, where this year's winners of the Solo Prize in collaboration with Politikens Forhal, the Deep Forest Art Land Prize and the Talent Prize will also be revealed. Free beer will be served and music provided by DJ Malika Mahmoud
Talks and screening on Wednesday 9. February
In connection with Charlottenborg Spring Exhibition 2022 you can experience textile artist and member of this year's jury, Grethe Wittrock, in a conversation with four artists and artist groups - Felix Badman (SE) & Kristine Møller (DK), Marianne Johnstad-Møller (DK), Sophia Luna Portrar (DK) and Serine Yde (DK) - about their artistic practice and works at Charlottenborg Spring Exhibition 2022.
At 18.00 - 18.45 there is also the opportunity to watch selected video works from Charlottenborg Spring Exhibition 2022 in the cinema (free).
The event is free of charge.
Read more about each event here: https://kunsthalcharlottenborg.dk/en/events/
In addition, live digital conversations with the award winners will be streamed on our Instagram and later published on our Facebook - follow us here at Instagram and here at Facebook.
Screening of selected video works on Wednesday 16 February and 9 March
There will be an opportunity to view selected video works in Kunsthal Charlottenborg's cinema on Wednesday 16 February from 17:00-20:00.
3D footage of the exhibition
If you are unable to visit the exhibition, you can also experience it in a digital 3D format on our website. The 3D exhibition can be viewed here after 7 February.
Ongoing tours
There will also be guided tours of the Charlottenborg Spring Exhibition 2022. All events are free of charge. More information will follow on our website and Facebook.
We look forward to celebrating the exhibition and the artists with you!
FURTHER INFORMATION
Isabella Hemmersbach
General manager
ih@charlottenborg-fonden.dk
+45 40282941
charlottenborg-fonden.dk