GENIUS OF THE SPRING EXHIBITION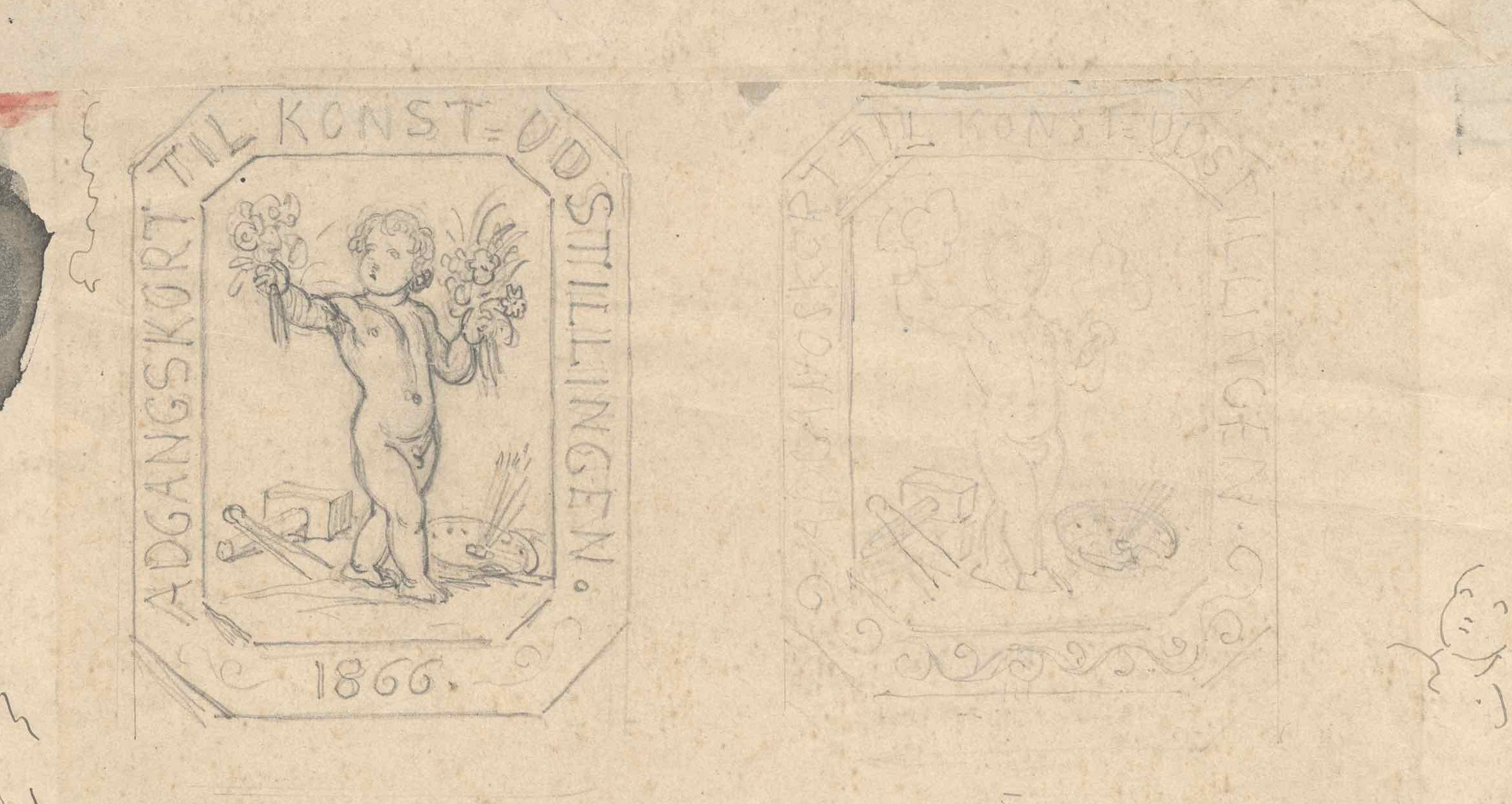 Constantin Hansen. Pencil draft for The Spring Exhibition Admission Ticket, 1866
In 1866, the painter Constantin Hansen drew an entrance ticket to the Spring Exhibition at Charlottenborg. He wrote about it in his diary on 15 March 1866: "The sign drafts a new Exhibition Ticket and a Vignette for a new Scandinavian Journal. Slige Things of course free. You place at every leilighed occupy the power of the Artist, but one does not make sure that he can live and maintain his powers."
Hansen had joined the Exhibition Committee in 1864 and had participated in the hanging of paintings in the same year. In 1866 he took on the one man scheme and hanging the paintings.
In terms of payment for the pass, the financially distressed artist did better than expected, although it took time. On 31 May he was able to write in his diary that he had received 30 rigsdaler in fees for drawing the entrance card.
The little naked boy or putto is a recurring figure (with or without wings) in hansen's and many of his contemporaries' art. The boy can lead his anes back through Italian Renaissance to ancient Roman art. On Hansen's admission ticket, the child is characterized through palette, hammer and fitting as a representative of the three arts: painting, sculptor's art and architecture. The flowers and the bird allude to spring.
Hansen's admission ticket became the basis for the Spring Exhibition's settlement of catalogues, posters and other printed matter, but over the years there have been changes. Three reworkings of Hansen's drawing are known: 1881 probably by Hans Tegner, 1897 by Hans Tegner and the xylographer Oscar Andersen1, 1914 by H.B. Storck. Hansen's drawing and the three versions have been used alone or in conjunction with the others on the catalogues' covers, intermediates or title sheets, often with multiple versions in the same catalog. The earliest known posters from the first half of the 20th century used the 1881 version, but the posters returned to Hansen's foreman during the 1940s.
From 1922, the logo was also used by the Autumn Exhibition.
Thank you to librarian Orla Pedersen for identification of O.A. and information about this xylographer