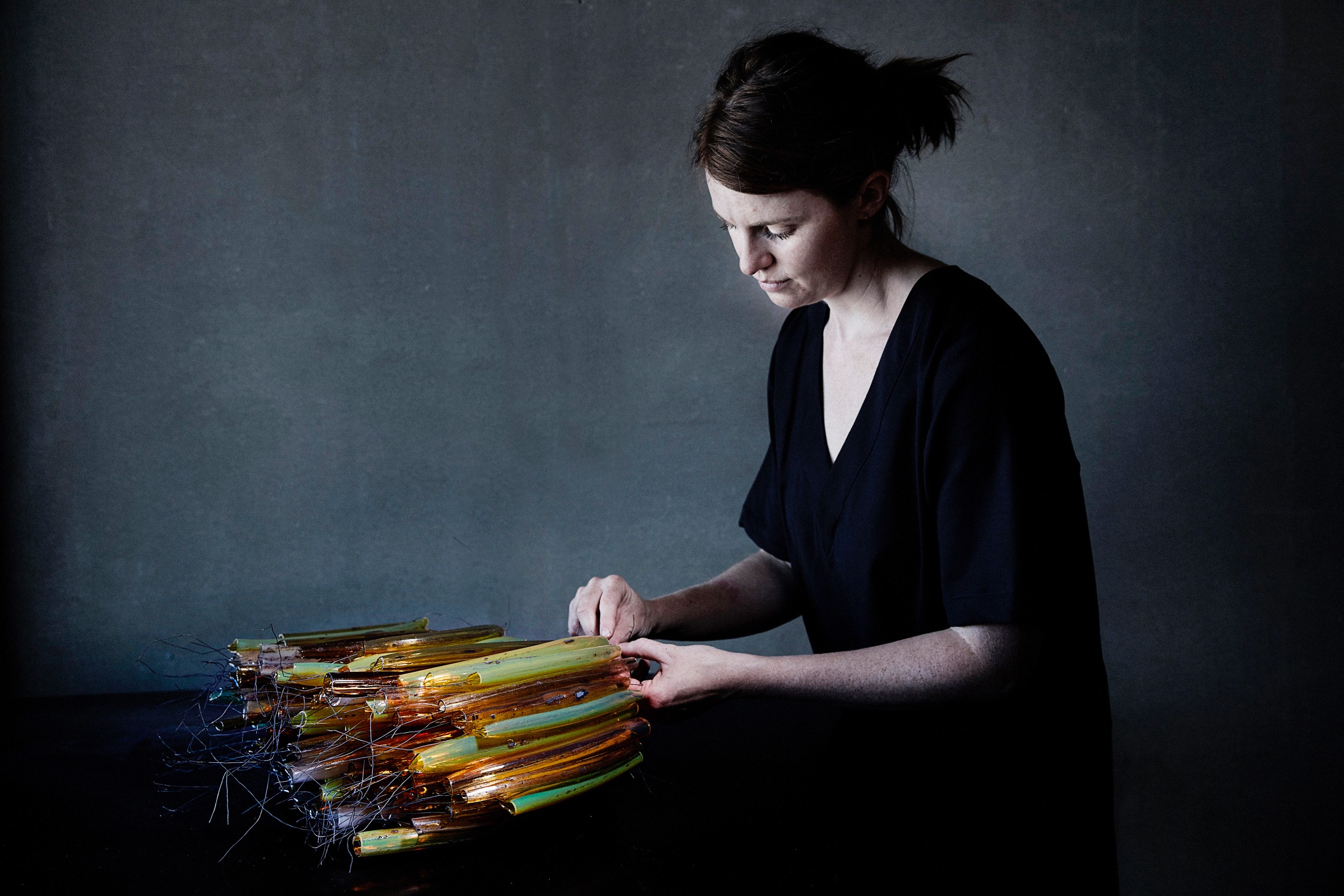 EXHIBITION OPENING DEEP FOREST ART LAND
October 23, 2021 @ 4:15pm

-

5:00pm
EXHIBITION OPENING DEEP FOREST ART LAND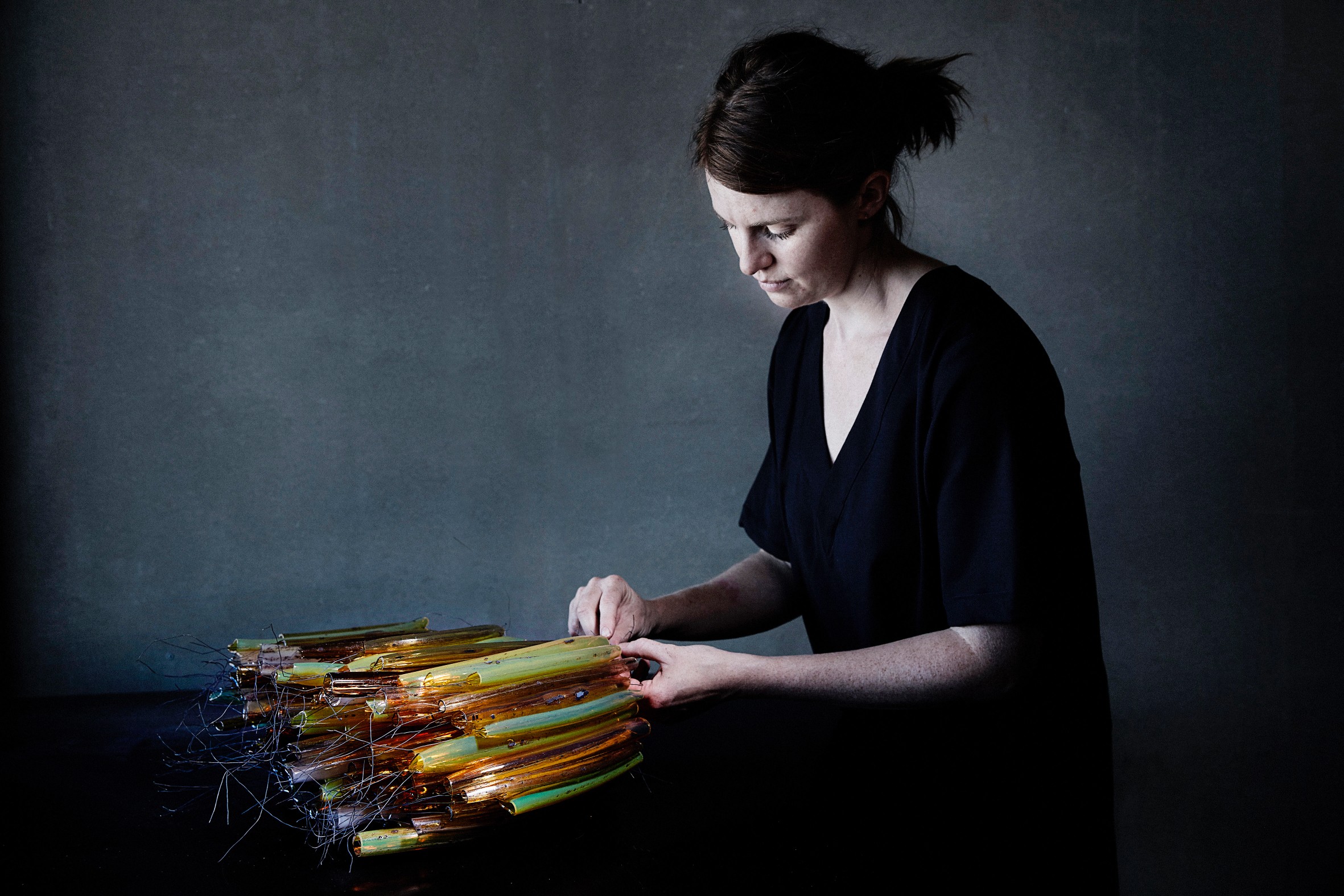 Portrait of Ida Wieth by photographer Kåre Viemose
Danish artist Ida Wieth won this year's Deep Forest Art Land Award for Charlottenborg Spring Exhibition 2021 and as part of the award has created a new site-specific work for Deep Forest Art Land in Kibæk, which opens on 23 October 2021. The exhibition is part of a new partnership between the Charlottenborg Foundation and Deep Forest Art Land, which aims to strengthen artists' ability to develop their practice as well as create solo presentations in a professional setting.
For Deep Forest Art Land, Ida Wieth has created the site-specific work Double Down, which consists of a whole of glass elements shaped like tubes, which in a layered structure appear with a perspective distorted and almost kaleidoscopic effect. The work was created at Holmegaard Glassworks.
In her practice, Ida Wieth makes use of classical craftsmanship skills based on the tradition-bound mouth-blown glass, where she pushes the boundaries of the material's possibilities in an artistic context. She works in a sculptural and conceptual direction that revolves around concepts such as time, changeability and course with literary and art historical references.
The work's title Double Down refers to acting with increased determination and putting everything in, just as the glass elements themselves consist of a duplicity of two fused tubes. In the meeting between the two parts, they are separated by a barrier of glass, which is emphasized with iron powder. The units appear to have the same conditions, but will be included in, and influenced differently by the seasons – the work will thus, by virtue of time and the passage of nature, gradually change character. The layered structure of the glass imitates a forest in itself – like transparent trunks and branches, with a floating expression. The work thus mimes several elements from the forest, and subscribes to the cycle and impermanence of nature, with both inherent strength and fragility.
On October 23 at 4:15 p.m., the work Double Down is presented in Deep Forest Art Land, and is part of several exhibition openings in Deep Forest Art Land on the same day. See the full program here. For opening hours, address, etc., please see www.deepforestartland.dk
About Ida Wieth
Ida Wieth (born 1983) graduated from Edinburgh College of Art in Scotland in 2009 (Master of Fine Art, Glass) and Kosta Glass School (2005). She exhibits widely at sea and abroad, including the Toyama International Glass Exhibition, Japan (2018/2021), Sophienholm (2020), Corning Museum of Glass, New York, USA (2019) and Gallery Entrée, Bergen, Norway (2020). She has also been awarded a number of awards, including ole haslunds kunstnerfond (2019) and Hempels Glaspris (2017). Her works are part of collections at home and abroad, including at Notojima Glass Art Museum, Japan, Designmuseum Danmark, Statens Kunstfond and Hempel Glasmuseum. Ida Wieth works from her workshop in Aarhus.
About the new partnership
In line with the Charlottenborg Foundation's purpose of promoting and supporting contemporary growth layers and new talents in visual arts, design, architecture and handicrafts, the Foundation has over the years awarded a number of awards in connection with charlottenborg spring exhibition. This focus will be further strengthened over the next few years through a number of new external collaborations, including with Politikens Forhal as well as with Deep Forest Art Land in Kibæk and the newly established Deep Forest Art Land Award, which will be awarded in connection with charlottenborg spring exhibition in the coming years. The winner will have the opportunity to develop his artistic practice as well as create a solo presentation in a professional setting. The new collaboration will help further strengthen Deep Forest Art Land and the Charlottenborg Foundation as a platform and resource for the artistic growth layer that can lift talent from the growth layer into a broader context, both geographically and institutionally.
About Deep Forest Art Land
Deep Forest Art Land is set up to give everyone access to unlock their own creative potential in the encounter with art and central and west Jutland nature. Deep Forest Art Land works on the idea that an interaction between art and nature can unlock our creative potential and make us more open and receptive, and thus able to plunge us into new challenges. Deep Forest Art Land was started in 2010 by the visual artists René Schmidt and Søren Taaning under the name Skovsnogen. The site had its beginnings as a development project under the Open Air Council, The Local and Construction Fund and others. and the concept of "Nature Room". Among other things, the project was about creating new natural users from social groups who do not normally seek out nature. It quickly proved to have great potential, and Deep Forest Art Land today has over 70,000 visitors annually.
Foundations and sponsors
Charlottenborg Spring Exhibition 2021, the partnership with Deep Forest Art Land and the production of Ida Wieth's work Double Down have received generous support from the following foundations and sponsors: 15. June Foundation, Augustinus Foundation, Axel Muusfeldt Foundation, Beckett Foundation, Danish National Bank Anniversary Fund of 1968, Obel family fund, Dreyers Foundation, Grosserer L. F. Foghts Foundation, Knud Højgaards Fond, Kunsthal Charlottenborg, Oda and Hans Svenningsens Fond, Poul Johansen Foundation of 1992, Statens Kunstfond and Aage and Johanne Louis-Hansens Fond.