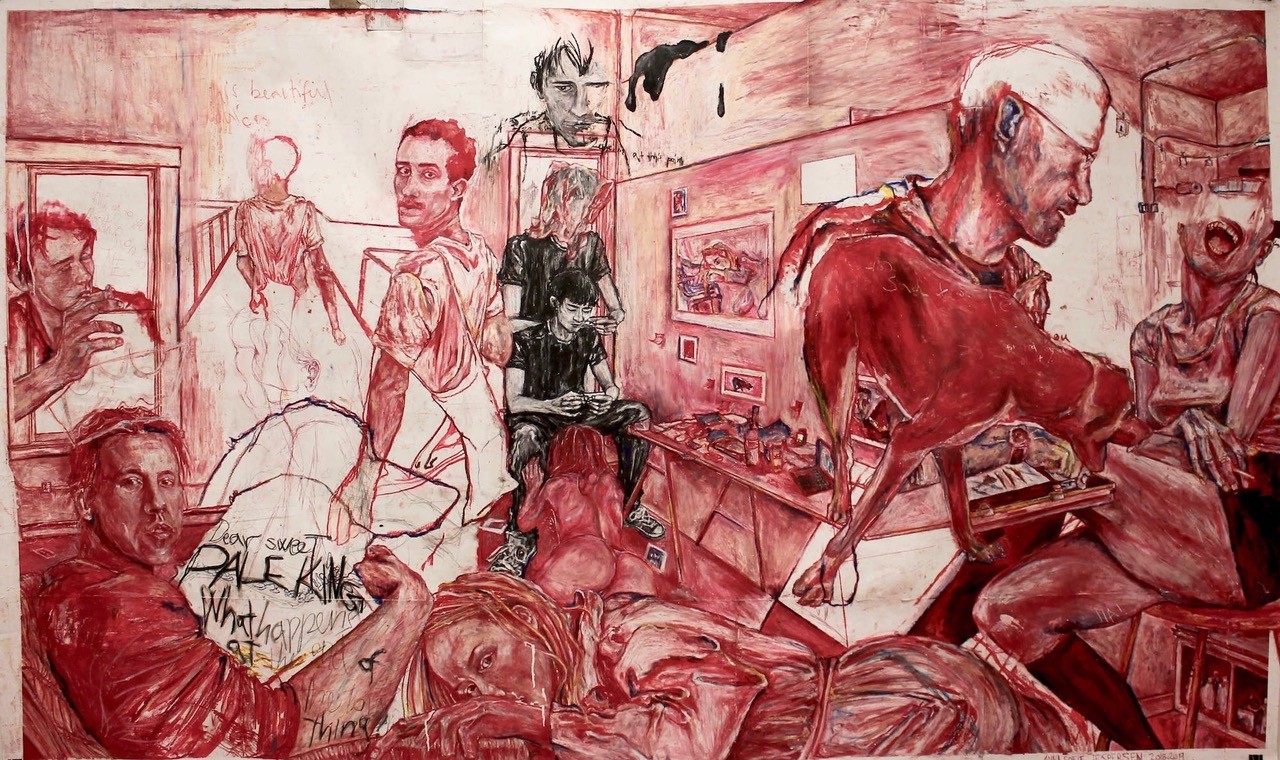 Soloudstiller Anna Sofie Jespersen
Som modtager af Soloprisen '21 udstiller Anna Sofie Jespersen hos Politikens Forhal med udstillingen 'Dagligstue Dialyse.' 
Anna Sofie Jespersens udstilling 'Dagligstue Dialyse' berører en række kontroversielle menneskelige grundvilkår med afsæt i en serie ekspressive hverdagsagtige situationer tegnet og malet i rødt. Værkerne er skabt på store, grove lærreder, som kunne minde om vinduer ind til alt det, vi til daglig lukker vores øjne for. Men ved nærmere eftersyn indeholder værkerne langt mere komplekse og absurde fortællinger, end hvad vi ved første øjekast ser. Det skønne og det dysfunktionelle sameksisterer på harmonisk og dramatisk vis i Anna Sofie Jespersens kunstneriske praksis. Hendes værker besidder et kropsligt, næsten kødeligt, nærvær og er en forfriskende energisk blotlægning af de stadig mere flydende grænser mellem vores privatsfære og det offentlige rum. 
Anna Sofie Jespersen minder os om alle vores mere eller mindre skønne almenmenneskelige træk med en særlig omsorg for de personlige skæbner, tragedier og livet selv, som udspiller sig bag de nedrullede gardiner og vores lukkede øjne. 
Anna Sofie Jespersen har en BA i Fine Arts fra Chelsea College of Art and Design i London og har netop afsluttet sin MFA fra Hunter College i New York. 
Udstillingen til Politikens Forhal er skabt i samarbejde med Charlottenborg Fonden og er Jespersens første udstilling i Danmark. Hun bor og arbejder til daglig i New York. 
Soloprisen belønner overordnet kunstnerisk kvalitet og samtidig relevans, og prisen uddeles i samarbejde med Politikens Forhal. Udnævnelsen sker på Forårsudstillingens åbningsaften. Fokusset i samarbejdet er at understøtte vækstlaget, hvoraf en række særligt udvalgte kunstnere får mulighed for at videreudvikle deres udstillingspraksis og blive en del af et solidt kunstnerisk program ved en etableret institution på dansk grund. 
Seksogtredive kunstnere blev i 2021 antaget på årets udstilling udvalgt af juryen, som det år bestod af kunstnergruppen A Kassen, billedkunstner Nina Beier, billedkunstner Marie Lund, arkitekt Martin Marker og designer Iben Høj. I samråd med udstillingschefen i Politikens Forhal udpegede juryen Anna Sofie Jespersen som modtager af årets solopris 2021.