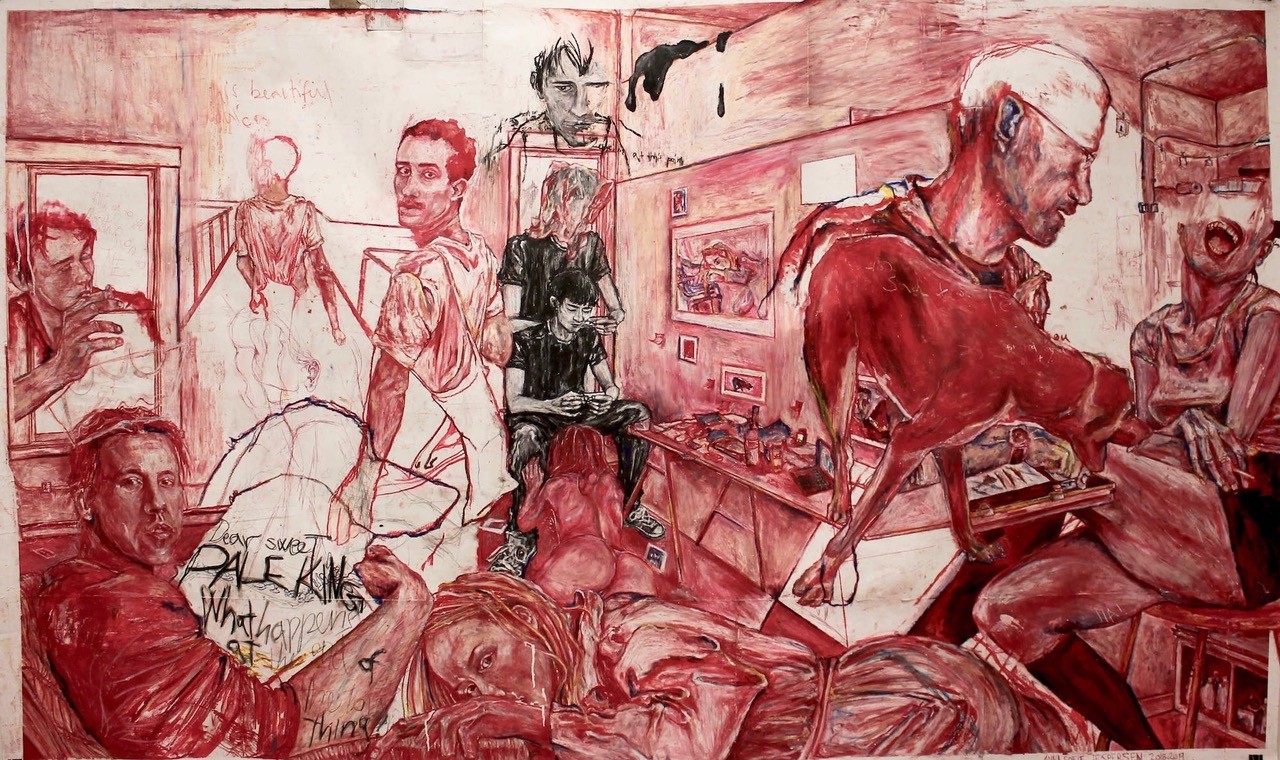 Solo exhibitor Anna Sofie Jespersen
As the recipient of the Solo Prize '21, Anna Sofie Jespersen exhibits at Politikens Forhal with the exhibition 'Living Room Dialysis.' 
Anna Sofie Jespersen's exhibition 'Living Room Dialysis' touches on a number of controversial human basic conditions based on a series of expressive everyday situations drawn and painted in red. The works are created on large, coarse canvases, which could remind us of windows to everything we close our eyes to on a daily basis. But on closer inspection, the works contain far more complex and absurd narratives than what we see at first glance. The beautiful and dysfunctional coexist harmoniously and dramatically in Anna Sofie Jespersen's artistic practice. Her works possess a bodily, almost carnal, presence and are a refreshingly energetic exposing of the increasingly fluid boundaries between our private sphere and public space. 
Anna Sofie Jespersen reminds us of all our more or less beautiful general human traits with a special care for the personal destinies, tragedies and life itself, which play out behind the rolled-down curtains and our closed eyes. 
Anna Sofie Jespersen has a BA in Fine Arts from Chelsea College of Art and Design in London and has just completed her MFA from Hunter College in New York. 
The exhibition for Politikens Forhal was created in collaboration with the Charlottenborg Foundation and is Jespersen's first exhibition in Denmark. She lives and works daily in New York. 
The solo prize rewards overall artistic quality and at the same time relevance, and the prize is awarded in collaboration with Politikens Forhal. The appointment takes place on the opening night of the Spring Exhibition.  The focus of the collaboration is to support the growth layer, of which a number of specially selected artists will have the opportunity to further develop their exhibition practice and become part of a solid artistic program at an established institution on Danish soil.
Thirty-six artists were selected by the jury in 2021, which that year consisted of the artist group A Kassen, visual artist Nina Beier, visual artist Marie Lund, architect Martin Marker and designer Iben Høj. In consultation with the exhibition manager at Politikens Forhal, the jury appointed Anna Sofie Jespersen as the recipient of this year's solo prize 2021.